<Editor's Pick>"Crazy rich" Chinese tech company: how did ByteDance achieve daily revenue of ¥300 million
"If ByteDance now goes to raise a round of new shares, the valuation is at least $150 billion," an early investor of ByteDance revealed to PEdaily. But doubts are pouring in: how did ByteDance achieve such huge revenue? The secret of ByteDance's revenue is starting to surface.
On May 27, Reuters and Bloomberg reported that according to an informed source, ByteDance achieved $17 billion in revenue last year which is more than twice as high in 2018. In response, PEdaily asked ByteDance for confirmation, and they replied that the company would not respond to such market rumors.
However, it's not just a rumor. A few days ago, SensorTower data showed that ByteDance's TikTok has already acquired more than $78 million in the Apple App Store and Google Play Store worldwide in April 2020, surpassing YouTube's $76 million for the first time.
It should be noted that this is the first time in history that a Chinese Internet company has achieved such success overseas.
Eight years after its founding, ByteDance began to become a crazy "printing press". Not long ago, a partner at an established U.S. PE firm revealed in an interview with PEdaily that he was blown away by ByteDance." Before June 2018, several video platforms such as TikTok, Huoshan, and Xigua were for free, and then after its commercialization, these platforms bring in at least ¥100 million a day."
With a yearly revenue of ¥120 billion, TikTok has achieved rapid growth.
On May 27, sources told Reuters about ByteDance's revenue secrets: for the year of 2019, ByteDance's revenue was more than $17 billion, or more than 120 billion yuan, which translates into a daily income of 330 million yuan. Its net profit achieved more than $3 billion which is equivalent to 20 billion yuan.
Such detailed data is not an empty rumor, and it was once speculated that it was revealed by ByteDance on its initiative to the media which is very common in PR. It must be mentioned that ByteDance has become one of the most commonly reported Chinese companies overseas. According to media reports, this company is becoming a strong competitor of American Internet giant Facebook and Google parent company Alphabet. Facebook's Instagram brought in $20 billion in advertising revenue in 2019, and Alphabet's YouTube's advertising revenue last year was $15.1 billion.
Since 2019, with the rumors of going public, the revenue of ByteDance has become more eye-catching. Earlier this year, it was reported that ByteDance reached its performance target for 2019, with full-year revenue exceeding ¥140 billion, increasing nearly 280% from the previous year. Meanwhile, back in November 2019, ByteDance's average daily revenue was over ¥400 million.
However, ByteDance denied the 140-billion-yuan revenue, explicitly saying that the news was untrue. In response to the news that their revenue exceeded $17 billion, ByteDance did not directly deny it.
Where does ByteDance's main revenue come from? TikTok is reported to have over 738 million downloads for the year 2019 and revenue of $177 million. TikTok's revenue was $85.5 million in the fourth quarter of 2019, double that of the third quarter and six times that of the fourth quarter of 2018, according to U.S. mobile app data analytics firm SensorTowera.
It is worth mentioning that the current rising trend of its short video revenue continues, especially in the pandemic this year. Sensor Tower data also shows that TikTok received more than $78 million in the global Apple App Store and Google Play Store in April 2020, surpassing YouTube's $76 million. Today, TikTok has more than 1 billion users and more than 2 billion downloads. ByteDance is the only technology company with more than 100 million users in China and the West, except for Apple.
TikTok generates most of its revenue from advertising and in-app purchases. Since last year, ByteDance has been accelerating its commercialization on TikTok. They have recruited talents from Internet companies that have monetization experience and resources both at home and abroad. At the same time, in the adjustment of the organizational structure in March this year, Zhang Lidong, who was in charge of commercialization, and Zhang Nan, CEO of TikTok, were named Chairman of ByteDance (China) and CEO of ByteDance (China) respectively which illustrates the success of the commercialization and the extreme recognition of the contributions of TikTok.
Besides, ByteDance continues to expand its revenue. They tried on live streaming, e-commerce, search engines as well as one of the key businesses for 2020, gaming, which is ByteDance's necessary commercial footprint.
Early investors: ByteDance is valued at at least $150 billion. Why is that?
In the Chinese Internet, the valuation of ByteDance remains a mystery.
The $75-billion valuation is a thing of the past. In March of this year, in a letter to investors from Tiger Fund, they revealed that ByteDance's stake changes hands in the secondary market. The valuation is between $90 billion and $100 billion.
Two months later, the valuation changed again. There have been reports that ByteDance's valuation surpassed $100 billion in a recent private stock deal, giving it a maximum of $140 billion.
"If ByteDance now goes to raise a round of new shares, the valuation is at least $150 billion." An early investor of ByteDance revealed to PEdaily. But doubts are pouring in: how did ByteDance achieve such huge revenue?
In the view of the above investors, the ruthless and resolute Tiger Fund profits from the difference in information, while those who know more about ByteDance continue to bet on the future potential of this company. "The market is very opaque, and the people who know about the reality of ByteDance including its core competencies and its market strategy are very few."
At the end of 2019, a partner at a well-established US PE firm revealed in an interview with PEdaily that "we've also looked at ByteDance, but didn't pitch for a variety of reasons, not because of the price, but honestly for a few concerns involving more sensitive issues."
But the investor bluntly said that he was shocked by ByteDance for its rapid development.
An investor had previously analyzed that "whether the valuation of ByteDance can exceed $100 billion depends on TikTok's ability to attract foreign investors."
Today, TikTok's success has not only given ByteDance a global growth engine but has also been a huge breakthrough for Chinese Internet companies' products in the global market. All along, neither Tencent's QQ and WeChat nor Alibaba's Taobao and Alipay have been able to open such a door.
Entrepreneurs are beginning to find that their ultimate rivals have become Zhang Yiming.
The "dreaded" ByteDance is ready to strike out everywhere.
Entrepreneurs in all fields are starting to find themselves dealing with more than just BAT. Nowadays, you also have to watch out for an even sharper rival - ByteDance.
It reaches out to all walks of life: news aggregation, short video, live streaming, e-commerce, social networking, online drama, film distribution, entertainment, music, K12 education, English learning, e-signature, enterprise applications, finance, gaming, search engines, smart hardware, AI, car networking, cloud services....... Sitting on a constant flow of traffic, the ByteDance landscape is boundless.
The "B" in BAT has become ByteDance long ago. Even though it hasn't gone public yet, the $100-billion valuation of ByteDance has crushed Baidu. In part, it's because of the rise of the short video that the mobile internet landscape in China is rapidly changing. Currently, Tencent products account for 50% of China's traffic, followed by ByteDance products.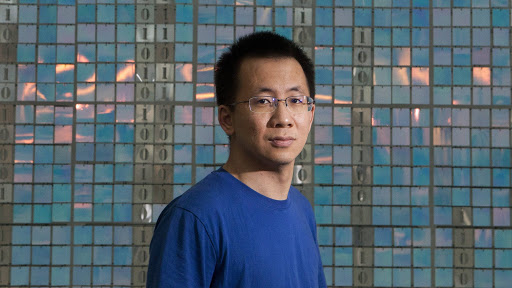 Zhang Yiming, who rarely appears in public, wouldn't have thought that when ByteDance makes Chinese Internet companies feel full of crisis, tech companies in Silicon Valley are also not happy about this rival. Rounding up Zhang Yiming, the scene is playing out around the world.
Zhang Yiming once said that:"You don't have to think about looking back to see who is coming to your side. You don't have to think about tripping your rivals because it's useless. You should just run quickly forward attentively. This does not seem to be a clever method, but in many cases, the most direct method is the most effective one."
Now, in the face of the siege of giants at home and abroad, the Byte is still Dancing— even though Zhang Yiming has become a "public enemy."
This is an article from WeChat official accounts PEdaily(ID: pedaily2012), written by Yang Jiyun, translated by Linda Yang.