Re-cooperating with Meituan and Ctrip, OYO's development in China is facing a critical moment
After experiencing a series of scandles such as data fraud, partners' cancellation, and internal corruption, OYO, which was in a critical moment, finally heard good news.
On May 29th, Meituan announced that it has entered into a business cooperation with OYO hotels. Meituan will provide support for the first batch of OYO Hotels, including traffic, data operation and brand promotion. Currently, the two parties are launching system docking. Two days ago, OYO also re-engaged with Ctrip. Ctrip will not only re-launch OYO Hotel, but also help OYO hotels owners in terms of technology, operation and manpower.
According to the latest data, OYO has already settled in more than 320 cities in China, with more than 10,000 online hotels and 500,000 guest rooms. Although it is accelerating, OYO's progress in China is not smooth. It was once blocked by the OTA giants, and the hotel was removed from the booking platforms. This interception has also become a trigger for hotel owners to question OYO. Now that the ban was released , it is undoubtedly a big good news for OYO.
In addition, on May 30th, OYO held a press conference in Chengdu. At the conference, OYO announced the strategic upgrade of "OYO Hotels 2.0" and proposed a new hotel management model that "shares risks and shares revenue" with the owners. Improve business problems while addressing the lack of traffic. In the face of the internal and external troubles, OYO is trying to break the dilemma.
Copying the Indian model in China?
OYO, the Indian company was founded in 2013, and founder Ritesh Agarwal is a post-90s. Prior to founding OYO, Agarwal had done an Indian version of Airbnb. He tried to aggregate the information of budget hotels in India and provide online booking services for users. The business failed because of the inability to provide a standardized accommodation experience.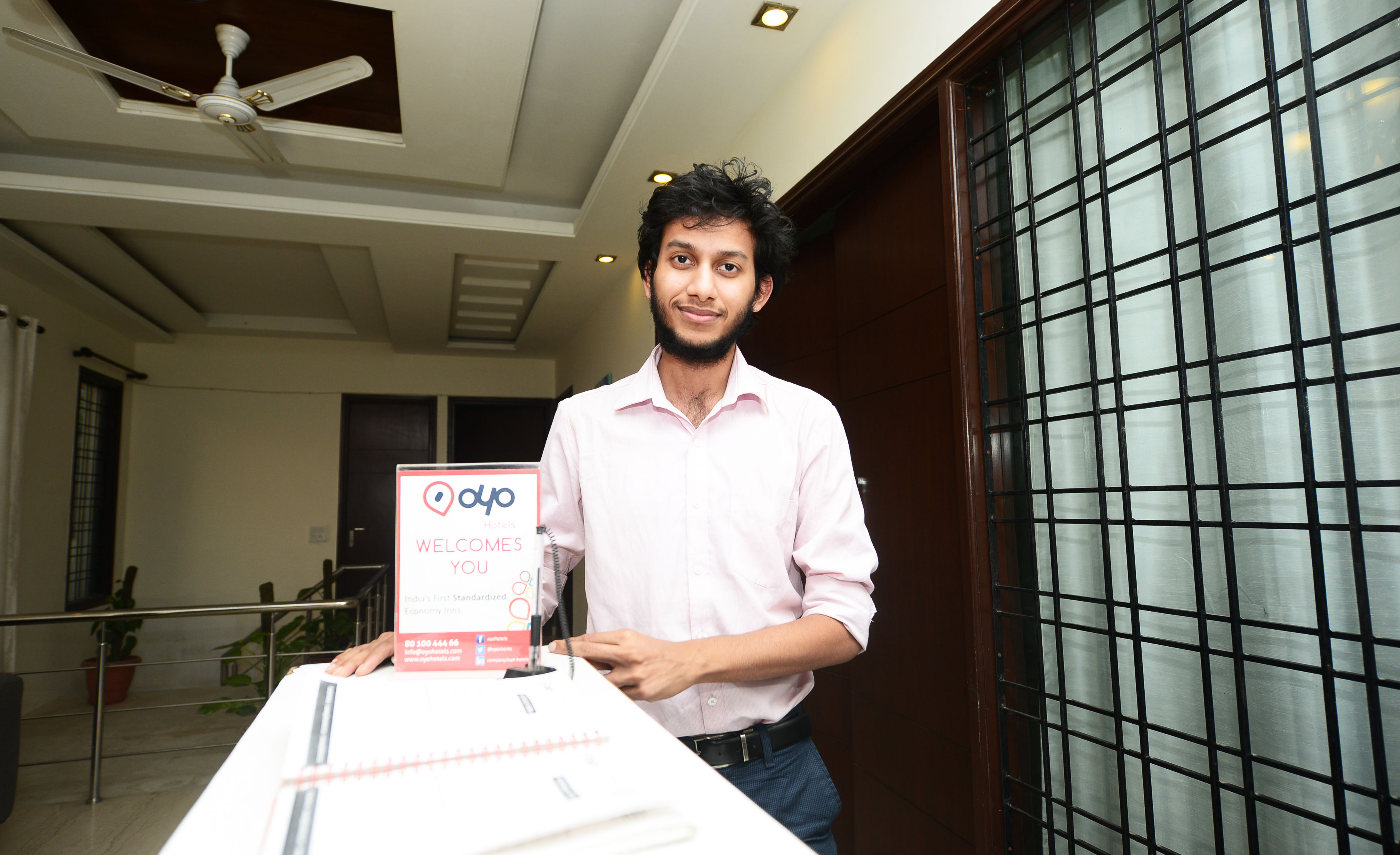 At first, OYO adopted a Uber-like sharing model, focusing on the integration of low-star single hotels, requiring owners to use OYO's brand logo and standardized hardware to lightly transform the sections that directly affect the user's stay experience, such as uniform linen, free Wifi, breakfast service, etc. On the other hand, OYO will also increase the customer acquisition rate through its own APP and cooperation with OTA platforms.
According to statistics, there are 4 million non-brand hotels in India, of which 2 million are OYO's "potential listings". In addition, India's current population structure is young, with nearly 800 million people under the age of 35. This means that India is still in the demographic dividend period. OYO faces huge potential in the residential consumption market, and OYO's ambitions have not stopped at budget hotels.
In January 2017, OYO entered the mid-to-high-end hotel market and launched the brand OYO Townhouse, which is operated by OYO. It integrates hotels with cafes, shops and other scenes. Most of the locations are close to tourist attractions and commercial centers, with an average price of RMB 300. OYO has established a professional team to operate OYO Townhouse. OYO's goal is to make OYO Townhouse the largest self-operated hotel chain in India by 2020 with 24,000 rooms.
Together with OYO Townhouse, OYO now has launched four mid-range hotel brands and a luxury resort brand OYO Palette Resorts. OYO's strategy is that low-star budget hotels adopt the franchise model, and the mid-to-high-end hotels are self-operated. After completing the product layout of the hotel format, OYO's business boundaries also touched folk customs, OTA, joint office, long-term rental apartments, marriage services, and even It is in the field of food delivery.
In the six years since its establishment, OYO has conducted 10 financings. The most recent E-round investor is Airbnb, and other investors include Japan Softbank, Huazhu Hotels, Didi, etc., with a total of more than 1.6 billion US dollars. With the help of the capital, OYO has started a new round of global expansion in addition to its business development. The business scope covers Southeast Asia, Europe, the United States, and China.
In November 2017, the OYO India model came to China and opened its first OYO hotel in Shenzhen. At first, it only opened several hotels in Guangdong. Until May 2018, the original team of 200 Chinese people began to expand on a large scale. A large number of people who have worked for companies such as CAR.Inc, ofo, and Mobike have joined OYO.
Li Wei, China partner and CFO of OYO Hotels, said that in June 2018, OYO began to expand in China, with room growth rate of 25,000 per month. After September, OYO began to accelerate, once maintaining a monthly increase of 4,500. From 3 to more than 280 cities in China, OYO only took six months. Under the global market map, OYO's expansion in China is obviously more radical than in Europe and the United States.
In this regard, Li Wei's explanation in the media interview is that this is related to the competitive landscape. It is regarded as a Chinese-style practice. "The way to enter the United States, Europe is completely different from China. You can try to open hotels one by one slowly in Europe and US, because there is no competition. The Chinese market is different, if you done it slowly there will be others who will do it."
Under the rapid expansion, OYO has indeed encountered many obstacles, including the joint "blocking" of OTA giants such as Meituan and Ctrip.
For OTA platforms, peace or war?
Is "war" more profitable, or is "peace" more profitable?
An industry insider who has long been concerned about OYO told GeekPark that from comprehensive ban to deep cooperation, this is a key issue that the OTA platforms needs to consider. More than 10,000 OYO hotels will bring a lot of GMV to the OTA platforms. "If you shield this volume of supply, it is contrary to the OTA platform itself."
"In the long run, OYO and OTA are bound to be in conflict," the source further explained. OTA expects OYO to act only as a supply end and will not pose a threat to divide its existing platform traffic. But for OYO, they hope that they have a strong ability to aquire customers, instead of paying the channel fees to Meituan and Ctrip.
It is reported that in order to cooperate with Meituan and Ctrip, OYO will pay Meituan a guaranteed channel fee of 400 million yuan per year, requiring Meituan to exclude their rival H hotel on the platform; and paying Ctrip a channel fee of nearly 200 million yuan per year, but Ctrip is not required to exclude H hotel from the platform. In addition, OYO will still pay a commission to the Meituan and Ctrip.
In India, OYO was also blocked by the local OTA platform MakeMyTrip, which ended with OYO paying an additional 5% commission. In March of this year, they also renewed their five-year cooperation agreement. According to reports, platforms such as MakeMyTrip and its Goibibo will not cooperate with OYO competitors.
After all, OTA is an important for OYO to acquire customers. OYO's founder Ritesh Agarwal said in his first public appearance in China that OTA channels accounted for 20% of OYO's overnight occupancy.
Ideally, relying on its own app and mini program to gather members, through effective operations, OYO can maintain and improve user repurchase. However, according to Li Wei, CFO of OYO Hotel, in April of this year, OYO began to exert its strength in the establishment of the membership system, but the progress was relatively slow. Being "blocked" when there is insufficient traffic, the negative impact on OYO Hotels and their franchisees is inevitable.
A more difficult problem is that, OYO began to expand in the Chinese market in June last year, and the contract period with the hotel owner was one year. Nowadays, these hotel owners will greet the "Renewal Day" one after another. In order to achieve the franchisee's high retention and attract more owners to settle in, and to ease the relationship with the OTA platform, OYO is in a critical moment.
In order to broaden the source of its own traffic and help franchisees achieve performance growth, OYO attaches great importance to the conversion of channel to B and offline traffic.
OYO recruits a large number of employees who have worked for companies such as Meituan and Didi, and have strong local promotion capabilities to operate.
OYO helps hotels to tap offline consumers and build travel agency channels. It is also actively cooperating with governments and enterprises to solve the travel and accommodation needs of government and enterprise employees and broaden the business needs of B2B. In addition, on the C side, OYO also cooperated with Focus Media to launch elevator advertisements, and also placed offline advertisements on the high-speed rail during the Spring Festival this year.
A series of initiatives show that OYO Hotels is thirsty for traffic. In addition to paying expensive fees to the OTA platform, in April this year, OYO also cooperated with Alipay, users can book OYO hotels online through Alipay, and OYO's membership benefits will also be shared with Alipay members. It is reported that April is the testing phase of both parties, and large-scale drainage will begin in May.
Under these problems, OYO came to its crossroads.
This is an article from GeekPark, translated by Xu Yin